This week I take a look at Twitter, the microblogging website featuring 140 character 'Tweets' and how it can help your NI Business.
Having a NI Business Twitter account opens you up to a world of opportunities.
Exploding on to the cyber scene in 2006, you're more likely to have heard of Twitter due to its huge celebrity following and the press attention it gets for celebs tweeting pictures of their dinner.
Or in Donald Trump's case, his Twitter rants about the media, North Korea and every person he has ever crossed paths with personally and professionally.
But Twitter isn't just for US Presidents, celebrities or news stories.
It is your pathway to what is happening locally, whether that is NI Business news, community stories, humour or special offers.
Here's a Tweet from IoD Northern Ireland about their #growhow conference in Belfast recently.
This appeals to a lot of people involved in NI Business who might be a Director of a company or have ambitions to be in the future.
So the basic premise with Twitter is, you have 140 characters (this has been relaxed by Twitter and they're currently testing 280 characters) to share as a 'Tweet'.
Your Tweet can be about anything; how you're feeling today, something interesting that happened, a link to an interesting website or article, a picture taken from holiday. Anything.
Keep it relevant though to your business and industry most of the time.
You can follow people or organisations you find interesting and if you're interesting enough, they might even follow you back.
Essentially, this means you are subscribing to their updates (Tweets) and they're subscribing to yours by 'Following' you.
Here are 5 reasons why every NI Business should join Twitter.
1. The power of the #hashtag – why you need a NI Business Twitter account.
The hashtag (#) is your link to everything, whether you follow people or not.
For example, if you're a Belfast business reading this then a very useful hashtag to look up is #Belfast and #BelfastHour.
Under the #Belfast hashtag, there is a diverse range of information and news from people and organisations relevant to the local area.
The #BelfastHour hashtag runs on Thursday evenings from 9-10pm and is a fantastic opportunity for businesses to interact and network with other businesses in the city.
It's also a great opportunity to mention some of your special offers.
You can also use hashtags to find out information about your industry.
For example, if you're in marketing you can search #marketing to find out what other people in the industry are saying and doing.
If your NI Business sells cakes and buns you could search for hashtags like: #bakery, #baking, #buns, #cakes or #food.
2. You're on it, they're on it. Connect with your customers through your NI Business Twitter account.
This is self-explanatory but it's the main reason why an NI Business should join Twitter.
Think about it, your customers are on Twitter on their Smartphones and tablet devices 24/7.
You don't have to be online as often as that but engaging with your customers and prospective clients will pay huge dividends in the future.
It's all about creating brand awareness online.
Take this example. French Village is a hugely successful bakery based in Belfast. Take a look at their Twitter page.
They have over 4,000 'Followers' on Twitter so that means they have 4,000 potential customers.
French Village shares interesting local information, gets involved in local discussions and 'Retweets' pictures submitted by customers of its food.
It also shares mouth-watering pictures of its products like this Tweet above.
What's the most visually appealing part of your business?
Work that out and share lots of great pictures and videos on Twitter.
3. Build a brand through your NI Business Twitter account.
There's a reason why Nike, Apple and Samsung spend so much time and money on branding.
Think of Apple's brand. Innovative and forward-thinking, cool and hip.
That didn't happen by accident; it took time, money and consistency.
Your brand can be whatever you choose for what best suits your business.
For example, if you own a trendy cafe in Botanic Avenue and want to attract a certain type of clientele you can engage with potential customers on common interests, i.e. music, fashion, television.
Botanic Avenue has thousands of students so think about what they like: TV shows such as Game of Thrones, Suits, Orange Is The New Black.
Can you use these to tap into the market?
Be easily recognisable. A good logo is a start, but how you behave on Twitter is of the utmost importance.
When I launched Tall Paul Marketing officially in September 2017 I wanted a logo that was easily recognisable and was a reflection of who I am and what I do.
I'm Tall, I'm Paul and I offer online marketing services. Short, to the point and hopefully you'll remember it.
(A big shout out to Martin McCabe from McCabe Graphics in Newry for creating my website and logos. Check out his website HERE if you're an NI Business that needs help with branding, graphic design and creating beautiful websites!).
I asked one lady what she thought of my logo and branding before I launched Tall Paul Marketing and she said, "It's got Tallness and Paulness" – that's a great seal of approval!
Don't use your business account on Twitter for Tweets about personal opinions on controversial subjects.
It's also safe to say that if you've got a strong opinion on the constitutional status of Northern Ireland don't Tweet about that either!
4. Market your product or service on your Twitter account.
Twitter is your gateway to marketing your NI Business. Did you just win a business award? Let the good folks of Twitter know about it.
Look at this example from Newry-based business Around Noon, the popular 'food to go' specialists.
They recently won the 'Best Business Growth Award' at the Greater Newry Area Business Awards and shared the below Tweet with their followers.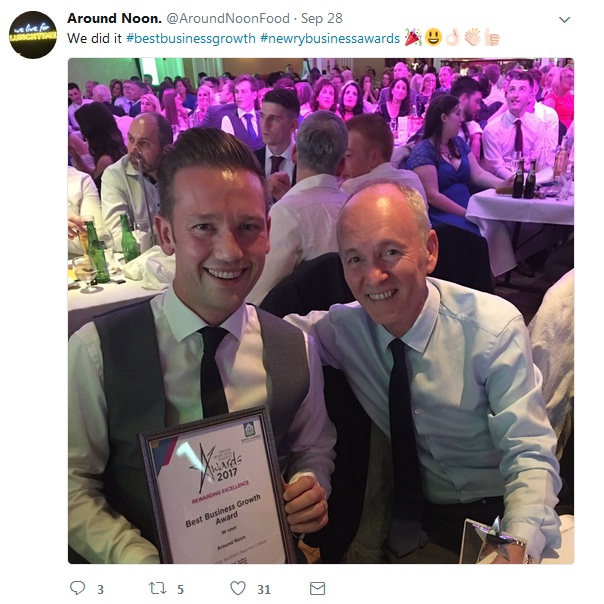 This Tweet achieves a couple of things. Firstly, it personalises the business and shows the faces behind the brand.
Secondly, it lets people know how successful Around Noon is.
It increases brand awareness and who knows, out of their 1000+ followers, some might be on the look-out for a new 'food to go' supplier and this Tweet could have piqued their interest and ultimately lead to a big order.
If it's interesting enough you'll be surprised how much power a single 140 character Tweet can have.
5. Deals, deals, deals.
We all love a bargain, don't we? Twitter is no different and potential customers are scouring the internet looking for the best deals in their area.
Groupon, Gumtree, Hot UK Deals and Wowcher have made businesses out of deals. But there is still a lot to be said for finding a good deal on Twitter.
For example, if your NI Business is a pizza shop in Belfast why not offer a special discount on selected pizzas? Or perhaps run a competition to win something special?
If there's a big Champions League game kicking off at 7:45 pm tonight (usually they're played every Tuesday and Wednesday night fortnightly), share a couple of special offers from around 6:00 pm.
Then, as kick-off approaches, you could be looking at a lot of orders for your delicious pizzas just in time to watch Cristiano Ronaldo and Lionel Messi strut their stuff on the big European stage.
Or, if you run a Smartphone repair shop in the city centre then why not offer people the chance to win an iPhone (or free smartphone repairs for a year!)?
All your Twitter followers have to do is Retweet your information.
Here's a great example of a competition from local radio station Cool FM.
Let's do the maths on this one. The concert tickets cost £22.50 each so this particular competition cost the radio station around £45 investment.
This competition got 74 Retweets. A conservative estimate would be that each account that Retweeted the competition has 100 Followers of their own. Most actually have hundreds or thousands of followers!
Therefore, this competition probably reached at least 7,400 people in Northern Ireland for an investment of just £45. Chances are, this actually reached tens of thousands of people.
Not bad for a quick Tweet and a £45 spend.
A knock-on effect will be new Followers a.k.a new potential customers. Or in Cool FM's case, new listeners and possible advertisers!
Use your imagination here and you could get a whole lot of new customers.
Northern Ireland Copywriter Paul Malone writes amazing blog posts for businesses that don't have the time to do it themselves.
Need help with your blog? Email Belfast Copywriter Tall Paul today paul@tallpaulmarketing.com.