If you are a business owner or marketer, you may be considering whether to hire a copywriter to help with your content creation efforts. From getting customers to buy your products or services to ranking higher on Google, here are 21 compelling reasons why hiring a copywriter can benefit your business.
---
21 reasons why companies in the UK And Ireland should hire a professional copywriter for their web content.
---
1. Professional Writing Expertise.
Professional Copywriters are skilled and experienced writers who specialise in crafting persuasive and engaging content.
They have a deep understanding of language, grammar, tone, and style and can create well-written, error-free content that resonates with your target audience.
Hiring a professional copywriter ensures that your content is of high quality and compelling and effectively communicates your message.
Personally, I've written a wide range of content in a diverse range of industries.
I've written content for some of the world's biggest alcohol brands, tech companies, marketing and communications agencies, local councils, charities and various companies in the automobile industry.
Look at just some of my Tall Paul Marketing clients, which shows how adaptable professional copywriters are.
---
2. A professional copywriter can save you time and money.
Content creation can be time-consuming and labour-intensive.
Many of my clients say that, initially, they tried writing their own content but found it wasted too much time, and the results weren't great.
Hiring a copywriter allows you to delegate this task to a professional, freeing up your time and resources to focus on other critical aspects of your business.
Copywriters are efficient and experienced in creating content, which can save you valuable time and effort in the long run.
---
3. Strategic Content Planning.
When you hire a professional copywriter, you are not just hiring a writer but also a strategist.
Copywriters can help you develop a comprehensive content plan that aligns with your business goals and target audience.
They can create a content calendar, research relevant keywords, and develop a content strategy that ensures consistent messaging and brand voice across different platforms and channels. 
My work extends way above just writing website content, as one of my recent clients recently explained:
"Paul has been absolutely fantastic to work with. He not only writes great copy but really nails down the SEO, which was very crucial for our start-up business. He also goes out of his way to help source other great business partners to work with, which is such a great way to be in this day and age. I recommend any start-up business to give Paul the opportunity to craft the copy needed for the website."
---
4. Brand Consistency and Voice.
Consistency is vital to building a strong brand identity.
Imagine you had several different members of staff working on your website, social media, blogs, and newsletters.
And imagine all of those having varying levels of English. One has a degree in English, another struggled with English in school, and maybe English is another's second language.
Quickly, customers will notice the obvious difference in language, tone and style on each.
A professional copywriter can help you establish a consistent brand voice and tone across all your content, including website copy, blog posts, social media, emails, and more.
They can ensure that your content reflects your brand values and personality and resonates with your target audience, helping you create a cohesive and memorable brand image.
---

---
5. Persuasive and Compelling Messaging.
Copywriters are experts in persuasive writing.
They know how to craft compelling headlines, captivating introductions, and persuasive calls-to-action (CTAs) that drive engagement and conversions.
They understand the psychology of persuasion and can create content that resonates with your audience, addresses their pain points, and motivates them to take action, such as making a purchase or filling out a form.
Another recent client of mine put it best:
"At times, it was like having an extra member of staff who you can trust to produce quality content that gets noticed. The real standout feature for us was Paul's responsiveness and how easy he was to work with – always available for a quick chat about our ideas or to cast his eye over a piece of work."
---
6. A professional copywriter has a deep understanding of SEO.
Professional copywriters understand how to write copy optimised for search engines, which can help your website rank higher in search results pages and attract more traffic.
A copywriter incorporates strategic keywords naturally to help web pages rank higher in search engines.
But I don't just talk a good game; I've taken my own business to the top of Google search results for many specific keywords and phrases: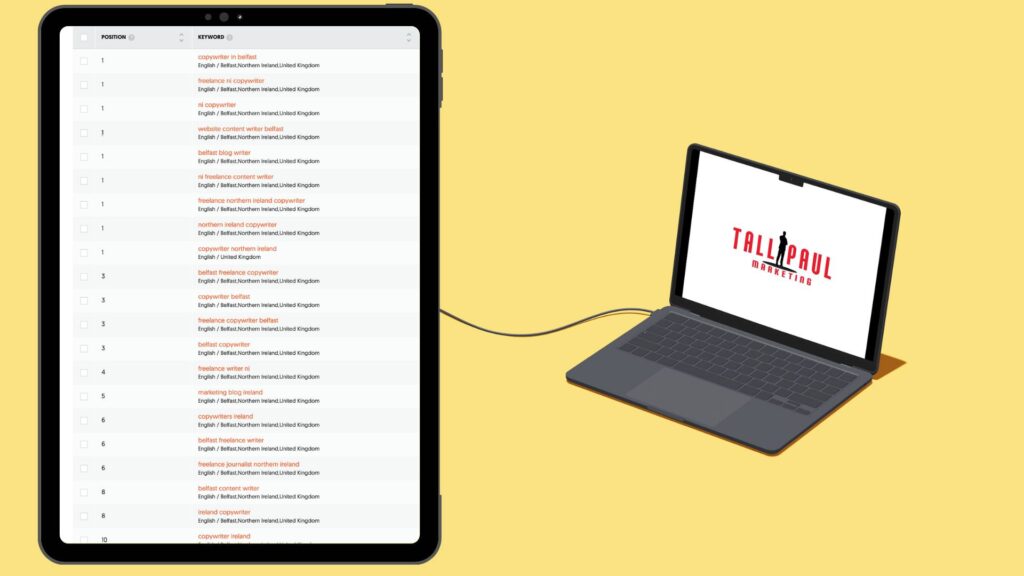 Find out here how I achieved it in just nine months.
One client explains how I helped them achieve their SEO goals:
"We hired Paul for blog content, and he really delivered. Paul is professional, friendly, and delivers on time. That's not all; his writing is brilliant, and he understands the fundamentals of SEO and good writing for the web. I couldn't recommend him enough."
---
7. Ability to create a variety of content.
Professional copywriters can create various types of web content, including blog posts, articles, landing pages, press releases, About pages, marketing brochures, newspaper articles, product descriptions, and more.
This means that you can have a one-stop shop for all of your web content needs.
I've worked with busy Marketing Departments.
Advertising Agencies. Charities.
Small businesses. Big businesses.
Industry leaders like Norbrook and Diageo.
Trusted favourites like Jameson and Powers Irish Whiskey.
Leading Irish restaurants like Peploe's in Dublin.
Technology experts like AirPOS, PocketBox and Pearlai.
Property experts like Northern Mortgages and Robert Gilmour Architects.
People targeting customers.
People targeting businesses.
People that want to sound good.
People like you.
---
8. Improved readability and engagement.
No matter how good you are at English, all content on websites, blogs and email newsletters should be easily read by someone who is around ten years old.
Professional copywriters know how to write copy that is easy to read and engaging.
They use clear and concise language, and they structure their content in a way that makes it easy for readers to scan and find the information they're looking for.
Using big words, complex sentences, local slang or insider jokes isn't a good idea and can, in fact, turn website visitors away.
Forget everything you were taught at school and go back to basics with these tips from my recent blog post: Writing for the Web: 6 Greatest Myths from English Teachers.
---
9. A professional copywriter can create higher conversion rates.
The goal of every company website is usually one (or all) of the following:
To get customers to buy, register, submit an enquiry, learn more about a company or increase brand awareness.
Well-written copy can help to improve your website's conversion rates.
This means that more visitors will likely take the action you want them to take, such as signing up for your newsletter, making a purchase, or downloading a white paper.
---

---
10. Increased brand awareness.
Professional copywriters can help you increase brand awareness by writing copy that is informative, engaging, and relevant to your target audience.
When people see your brand name and messaging regularly, they're more likely to remember your company when they need your products or services.
---
11. Improved customer satisfaction.
Professional copywriters can help you to improve customer satisfaction by writing copy that is clear, concise, and easy to understand.
They can also help you create content that answers customer questions and provides valuable information.
Customers usually visit a website for a reason: to buy, learn, be entertained or find out more.
And pages like FAQs, explainer videos, and knowledge hubs are a great way to satisfy those customer's needs.
---
12. Competitive advantage.
In today's competitive marketplace, it's more important than ever to have a strong online presence.
Professional copywriters can help you create high-quality web content that will help you to stand out from your competitors.
One recent client of mine explained the benefits of using my professional copywriting service:
"Paul has been writing blog content for nearly a year now, and I cannot recommend his work enough. Since having regular blogs updated on our website, it has helped our engagement and sales through Google searches."
---
13. Credibility.
Professional copywriters can help you to establish credibility by writing copy that is informative, accurate, and well-researched.
Using a professional copywriter can improve the credibility of a company in several ways:
Well-written copy is more persuasive: Copy that is well-written, informative, and engaging is more likely to convince potential customers to take action, such as signing up for a newsletter, making a purchase, or downloading a white paper. When potential customers see that a company has taken the time to invest in high-quality copy, they are more likely to perceive the company as being credible and trustworthy.
Professional copywriters understand SEO: Professional copywriters understand how to write copy that is optimised for search engines. This means they can help your website rank higher in search results pages, leading to more traffic and visibility for your business. When potential customers see that your website is ranking high in search results, they are more likely to perceive your company as being credible and authoritative.
Professional copywriters are experts in their field: Professional copywriters have the expertise and experience to write copy tailored to your specific audience and goals. They can also help you to develop a consistent brand voice and messaging across all of your marketing materials. When potential customers see that your company has invested in a professional copywriter, they are more likely to perceive your company as credible and professional.
---
14. A professional copywriter offers a fresh perspective.
A professional copywriter can bring a fresh perspective to your web content, which can help you see things in a new light and develop more creative and effective marketing messages.
Many assume a copywriter needs to know an industry inside out before writing about it.
However, this is inaccurate; the fact we don't know the industry is an advantage.
It means we'll ask (and answer) the questions that your website visitors might have, and all content we write will be written for those who aren't industry experts.
---

---
15. Scalability.
If you need to produce a lot of web content regularly, hiring a professional copywriter can be a scalable solution.
For example, many busy business owners and marketing managers contact me because they know the value of regularly updated blog content.
The only problem? They don't have the time to write it to the highest standards.
Instead, they ask me to write 4/8/12 pieces of blog content every month, allowing them to focus on other essential parts of the business.
---
16. Peace of mind.
Knowing that your web content is in good hands can give you peace of mind and allow you to focus on other aspects of your business.
Imagine opening your email inbox every month and having some high-quality, SEO-optimised blog content perfectly formatted in a Word document.
All you have to do is copy and paste it into your Content Management System and publish it on your website.
---
17. A professional copywriter can develop effective CTAs.
Copywriters are skilled at writing persuasive calls to action (CTAs), encouraging visitors to take the desired actions, such as purchasing or subscribing.
According to research by Unbounce, including CTAs on product pages can increase conversions by up to a massive 202%.
And according to a HubSpot study, 70% of small businesses lack a call to action (CTA) on their homepage, which is a missed opportunity to convert visitors into customers.
For businesses focused on lead generation, CTAs are essential.
Research indicates that well-designed CTAs can lead to a 20% increase in leads generated.
---
18. Drives qualified traffic.
A skilled copywriter creates compelling, strategic content that attracts more of a company's ideal target audience to their website.
They know how to craft posts, pages, and ads using language and messaging tailored specifically to resonate with the desired demographic.
This increases website visits from qualified prospects interested in the company's offerings.
For example, the copywriter conducts in-depth research on buyer personas, including their pain points and motivations.
This understanding informs content creation that speaks directly to the target customer in a relatable way.
The copywriter incorporates strategic keywords and optimises pages for SEO to get content ranking highly in relevant searches.
Essentially, a copywriter uses their writing expertise to develop content and execute strategies that cut through the noise to reach, engage and convert those most likely to do business with the company.
The result is more high-quality traffic from ideal prospective customers.
---
19. A professional copywriter improves user experience.
A skilled copywriter enhances website user experience by crafting content that is clear, concise, and engaging.
They focus on simplified language, proper grammar usage, and seamless readability to ensure all visitors fully understand the information on each page.
Copywriters also employ principles like chunking text into scannable sections, using descriptive headers and subheads, and highlighting vital info to make pages easy to digest.
Through compelling but straightforward writing free of jargon, seamless site navigation, contextual visuals, and strategic calls-to-action, the copywriter creates a positive, seamless experience.
Website visitors appreciate copy that is organised and enjoyable to consume.
This leaves them with an overall excellent impression of the company and its offerings.
---

---
20. Frees up your time.
Many business owners, marketing and communications executives and directors have enough on their plate without adding content creation into the mix.
You'll already be focused on business growth, staff well-being, new products, advertising campaigns, etc.
Outsourcing content creation allows you to focus on running your business.
---
21. A professional copywriter is results-focused.
Copywriters drive tangible outcomes like more leads, sales and sign-ups.
Before I write any website content, my clients usually fill in a Copywriter Brief.
This is how I find out what their goals are, how these goals can be measured and what type of customers they're targetting.
---
Conclusion: A professional copywriter can be an excellent investment for your company.
In conclusion, hiring a copywriter can be a valuable investment for your business.
Freelance copywriters bring professional writing expertise, save you time and resources, help with strategic content planning, ensure brand consistency, and create persuasive messaging that can drive engagement and conversions.
Consider hiring a skilled copywriter to transform your content creation efforts and effectively communicate your brand message to your target audience.
---
Do you need high-quality web content for your website from a professional copywriter?

---
I'm a Freelance Copywriter in Belfast, and I help clients with bespoke website content, blog content and content marketing.