What I Really Want to Know is...
How tall is Tall Paul from Tall Paul Marketing?!
Oh, eh,  hmmm, I'm glad you asked... do you also want my mother's maiden name and the last three digits of my bank card?
P.S: Read on to find out how tall I am!
This might give you an idea about why I'm called Tall Paul...
And yes, that is Small Paul drinking the bottle of milk!
But I've grown a little since then.
And I've got a typewriter in my hands instead of a bottle of milk. Well, not an actual typewriter but you catch my drift.
But people always ask... "how tall is Tall Paul from Tall Paul Marketing?"
And the official answer is: Paul Malone from Tall Paul Marketing is 6 foot 6 inches tall!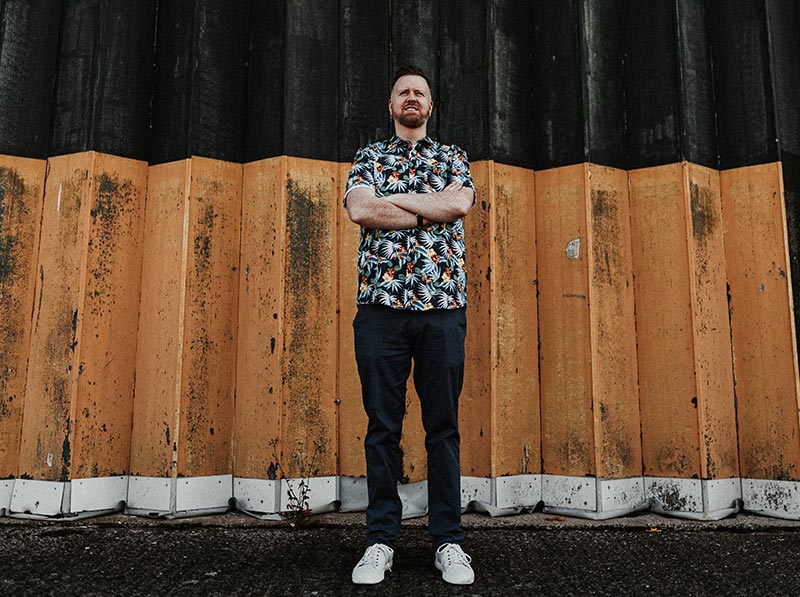 Being a Puma-endorsed egg & spoon athlete didn't excite me...
Neither did outside parties with friends and cigars...
My passion was for business.
So I went and started a business, Newry's first ever online newspaper.
And I won a few awards for being the Cristiano Ronaldo of the writing world.
The Lionel Messi of website content.
And some of the world's most respected media outlets asked me to write for them too.
The list includes The Guardian, CNBC, The Sunday Business Post and The Press-Gazette.
Then, during Covid-19 Lockdown #1, I quit a full-time Marketing & Communications job at a Russell Group University.
And decided to do what I loved most of all. Write words, sentences and paragraphs that people enjoy reading.
Business runs in my blood. Both my grandparents were entrepreneurs.
My father owns multiple businesses. So I understand business. Your daily challenges and the constant need to keep things moving in the right direction.
My parents also run a dancing academy business.
They didn't pass down that talent to me though, unfortunately. I'm more like Bambi on ice!
So I guess you could say that I've got a little skin in the game when it comes to business.
I know what it means to fight fires, attract customers, meet deadlines, pay taxes and everything in between.
Newry-born and Belfast-based, my clients are from all over the UK & Ireland.
Thanks to Zoom & Teams, we can catch up regularly and plan world domination from the comfort of our seats.
We've all got different skills, budgets and time constraints.
And not everyone fancies writing thousands of words a day. Instead, they hire me!
I work with Northern Ireland & Republic of Ireland businesses.
Advertising & Marketing Agencies. Charities. Small Businesses. Big Businesses. Caring people like Disability Action. Industry leaders like Let's Go Hydro and My Baggage. Trusted favourites like Jameson and Powers Irish Whiskey. Technology experts like AirPOS and Pearlai. People targeting customers. People targeting businesses. People that want to sound good.
People like you!
Years
---
Over 10 years' experience in creating engaging digital content for businesses throughout Ireland.
Articles
---
Over 15,000 online published news articles including The Guardian Newspaper, CNBC, The Sunday Business Post, The Press Gazette & more.
Readers
---
14,000+ people read my content on the Newry Times website every week, from breaking news to current events from around Northern Ireland.
I launched my business back in April 2019 and contacted Tall Paul Marketing to write and promote an article to inform people about my services. From the outset, Tall Paul was extremely professional and highly informed about what approach to take and what content to include in that all-important launch to market. A common practice I employ is asking new clients how did they hear about us. One common trait that a huge percentage of my customers disclosed was that they discovered me through Tall Paul's article. I have used his services numerous times since then and am looking forward to continuing the relationship long into the future. He provides an invaluable service to help promote and grow any business. I highly recommend!

I have been delighted with the services and support offered by Paul Malone at Tall Paul Marketing. He delivered creative and innovative social media marketing solutions for my company (Learn Spark Ltd).

There's almost always a strategic thinker behind successful social media marketing and Tall Paul Marketing has demonstrated strategic thinking in the work that they do.

Paul and the team at NewryTimes.com are leaders in the innovation of digital media. Their first online newspaper is a roaring success both as a portal for reading quality content, but also as a highly performing channel for businesses looking to generate online traffic through affiliations and advertising schemes.

Paul is a highly creative entrepreneur who combines strong business ethics with an exceptional work ethic. His obvious integrity makes him a good professional to work with and his humour and resilience makes him an inspiration to many young people. I have been immensely impressed by his tenacity and competency in building his business from scratch in very challenging times.

I have worked with Paul from a public relations perspective a number of times now and I have witnessed first hand his creativity, integrity and helpfulness in what is a fast paced and results driven environment. Furthermore, Paul's entrepreneurial characteristics are something to admire in that of the goals he has already achieved with the Newry Times.
I'M READY TO WORK WITH TALL PAUL!
---
1
Get in touch
Fill in the Tall Paul Marketing copywriter brief to let me know what's needed.
2
I'll quote you
After filling in the copywriter brief, I will look through your requirements and send you a quote.
3
Sign up with TPM
We'll agree on the work, cost, dates and sign a short contract that keeps us both on the same track.
Sign Up to my Mailing List!
For Copywriting, Content Marketing and Blog Writing tips and tricks just enter your Full Name and Email Address.