Writing high-quality, engaging content is essential. But to get that content ranked by Google in search results, you have to make sure your blog posts are SEO friendly. Here are 8 ridiculously simple ways to optimise your content.

Focussing on blog SEO means you'll give your content the best chance of ranking on Google (and to be found by your target audience).
And increasingly, Northern Ireland businesses are accepting that the move towards digital is happening at lightning speed.
Long gone are the half-page ads in print newspapers.
Northern Ireland businesses are now pouring significantly more money into their digital marketing and communications.
However, you may not be able to afford to enlist the help of a Northern Ireland Digital Marketing Agency or an NI PR company.
But there are lots of things you can do yourself to get great results, and blog SEO is one way to get ranked on Google.
Creating digital content – whether it's photographs, video, blog content – is challenging.
However, once you firmly establish it as a regular habit and a consistent part of your marketing strategy, it becomes second nature.
But what happens next after you've created great content?
---
---
That's where blog SEO becomes important.
The next step is making sure people find it.
More specifically, your target audience and ideal customer base.
You wouldn't create an eye-catching promo video and leave it languishing on your hard drive.
Nor would you create fantastic photographs promoting your business and leave them in a folder.
Of course, you'd upload the video to your social media platforms, and you'd upload the pictures to your website.
Creating content is straightforward; getting content seen, read or viewed by your customers is a little trickier.
That is unless you've got a huge budget and can afford to run Facebook and Google Ads to promote your content.
If that's you with the big-budget, this blog probably won't help you.
What is blog SEO?
Blog SEO is the art of making sure you optimise and structure your blog content correctly for search engines.
To rank on Google, Bing, DuckDuckGo and every other search engine, focus on Blog SEO for every single piece of content you share.
Today, we're looking at my favourite topic: blog content. More specifically, we'll take a deep dive into blog SEO and what you can do to get your content ranked in Google search results.

We'll discuss why writing blog content is only half the battle.
The other half is getting it out there in the world and beating all your competitor's content by using some tried and tested blog SEO tactics.
Unsurprisingly, all of your blog content should abide by the recommendations set by the tech world's most influential company.
You guessed it; Google.
Google regularly changes its secretive algorithm and keeps its cards close about how its ranking system works.
But one thing has remained largely the same over the last decade: SEO (Search Engine Optimisation) best practices.
So, if you're regularly posting high-quality content and it's not achieving the kind of results you'd like, you probably lack some basic SEO knowledge.
Follow these eight straightforward blog SEO tips to give all of your blog content the best chance of attracting readers and appear on Google search results.
Here's what we will cover in today's blog post about Search Engine Optimisation:
The importance of headlines and SEO titles for your blog SEO.

How to use H1 and H2 headings in your blog content to help Google rank your articles.

ALT text and what it means for your website's Google ranking.

The power of meta descriptions for blog SEO (and how to write a meta description).

Optimising your blog post by using relevant keywords and key phrases.

The importance of optimising all images on your blog post.

How to add your keywords to your URL.

Increasing the reach of your blog content by making it easy to share on social media.
1. Write a clickable headline to help your SEO.
I've written around 20,000 headlines in the last decade for Newry Times and Tall Paul Marketing.
And one thing I always try (and sometimes fail) to do is write a headline that will make people want to click on it to find out more.
However, a clickable headline doesn't mean 'clickbait', by the way.
There are many different websites that can check your headline and offer recommendations on making it better.
Here's a list of some of the best websites to create a clickable headline.
Let's look at headlines that gently nudge us into clicking on them.
Here are two example headlines based on big news this year:
The difference between a 'good' and 'great' headline.
Both headlines are reporting the same story and include the same content.
So, which one would you be more likely to click on if it popped up on your Social Media Newsfeed or your favourite website?
I'd guess 99.99% would click on Option 1.
Why?
Because headline number one taps into one of the most important of human's basic desires.
As Psychology Today bluntly puts it: We're wired to take the path of least resistance.
Headline one offers us a 'holy grail' injection; what could be easier for us than that?
You mean, I don't have to worry about what I eat or how often I exercise?
And I can still lose 2.4 stone a year?
Count me in!
Now, let's look at headline two.
It's a little less clickable, isn't it?
"It can aid weight loss" is a little less emphatic than "holy grail", yeah?
And it's not very specific about how much weight you could lose either, compared with headline one's very specific 2.4 stone in a year claim.
Therefore, the trick isn't about creating sensationalist, clickbait-style headlines.
But it's more about creating a headline that grabs attention, piques interest and drives curiosity.
Try using listicle headlines and emotional words.
Have a look at Buzzfeed's headlines, and you'll notice some common themes.
They use words like shocking, powerful, how to, amazing and incredible.
And their headlines also ask questions.
It feels like they've written a question that you'd maybe Google yourself.
Don't go overboard though, keep your SEO headline relatively short.
According to Moz, you should try and keep your title to between 50-60 characters.
The take-home message is: create a headline that makes people want to read your blog post.
2. To improve your blog SEO, use headings throughout your blog content or news article.
Headings allow readers to scan through content in bite-size chunks.
But they also perform another vital function.
They allow Google to understand what your content is about and show it in search results.
Yoast does a great job of explaining the importance of using headings in your blog or news page content:
"If visitors can't quickly find what they're looking for, they'll probably leave your site and look for another answer to their question. This is why text structure and heading use also impact SEO. Search engines pick up on people bouncing from your site. When you have a high bounce rate, search engines can conclude that your page doesn't give searchers what they're looking for. Consequently, you might get lower ratings."
How should I use headings in my blog content?
The first paragraph of your content is your chance to 'hook' the reader and quickly offer them a taster of what they can expect to read.
And it's that first paragraph that should be an H1 headling.
Remember, you're only able to have one H1 heading in each piece of content.
It's usually a little larger in font size and prominence than the rest of your text.
Next on your header list is H2 headings.
You should use these to break up your content.
For example, this piece of content you're reading has H2 headers for each numbered tip.
That shows Google what each piece of content within the main body is about.
Think of H2 headings as chapters of a book.
A great way of thinking about your H2 headers is to think of them as chapters in a book.
H3 and H4 headings are headings within the content too.
I rarely use these, but if you're writing exceptionally long content and need to structure it into subsets, you can use them too.
The most important headings are always your H1 and H2 headings.
They're an excellent opportunity to break up your content for your reader and Google.
Using headings is also an excellent opportunity to place in some of your keywords or keyphrases strategically.
For example, look through my recent blog post 'How I Got Top of Google Search Results in 9 Months (And How You Can Too)'.
You will see that the key phrase I wanted my content to rank on Google for is: Top of Google Search.
Notice how I've mentioned 'Top of Google Search' in my H1 heading and my H2 headings.
The take-home message: A well-structured piece of content lets readers scan through content quickly and allows Google's robots to understand what your content is about.

3. Add alt (alternative) text and a relevant file name to all of your images for a blog SEO boost.
If you're not using images in all of your blog or news content, you're missing out.
Images in your content serve a couple of purposes.
Firstly, they're an opportunity for you to add 'alt text' to your content.
Alt text provides a helpful nudge to search engine crawlers.
Ultimately, it helps these robots to understand and index your content on their search engines.
Secondly, they help tell a story.
For example, you'll notice I frequently use images throughout my articles to help my content flow.
Thirdly, they're prime real estate for piecing your content together with exciting and informative captions.
Fourthly, alt text improves accessibility and allows visually impaired readers to understand the image and its relation to your content.
Lastly, images with alt text break up huge text blocks, making it easier on the eye for readers.
Write what's important in your ALT text.
Also, change the file name of each image before uploading them to your website's media library.
If you have a file name called 'Belfast burger' that has a lot more power than simply 'burger'.
Oh, and did I mention, you can even add (don't overdo it!) some of your keywords or key phrases to your alt text.
For example, in this blog post 'Improve Your Website: 4 Unusual Tips Guaranteed to Help Your Business', one of the images had alt text that reads:
'There are now seven uncertainties – Northern Ireland Copywriter Paul Malone'.
The alt text accurately describes what the image is about in the context of that particular blog post.
And it also mentions some of my keywords and key phrases that I want Google to associate with the image.
"While search engine image recognition technology has vastly improved over the years, search crawlers still can't "see" the images on a website page like we can, so it's not wise to leave the interpretation solely in their hands. If they don't understand or get it wrong, it's possible you could either rank for unintended keywords or miss out on ranking altogether."
The take-home message: Include alt text in all images for your blog or news content to enjoy an SEO boost.
You'll also enjoy improved accessibility, which makes your content easier to read.
4. Write meta descriptions that will pique your target customer's curiosity.
Just like writing a good, clickable headline, writing a great meta description is worth the investment of time.
You'll want to get it right.
That's because even if your headline doesn't fit in Google search results (or isn't that clickable!), your meta description might get you that click.
Marketing expert Neil Patel speaks here about the importance of meta descriptions:
"Meta descriptions have one very important function on a search engine. That is, they provide a succinct description of the content of your webpage in conjunction with the rest of the metadata in your site's HTML code."
So, what is a meta description, and how do I use it for blog SEO?
A meta description is a sentence or two about your blog or news content.
Here's a couple of examples of meta descriptions from some of my recent blog posts and how they appear on Google search results.
For my article titled, 'Facebook Jail: I Got Permanently Banned From Facebook This Week – Here's Why I Won't Be Back' here is my meta description:
And for my article titled, 'How I Got Top of Google Search Results in 9 Months (And How You Can Too)'  here is my meta description: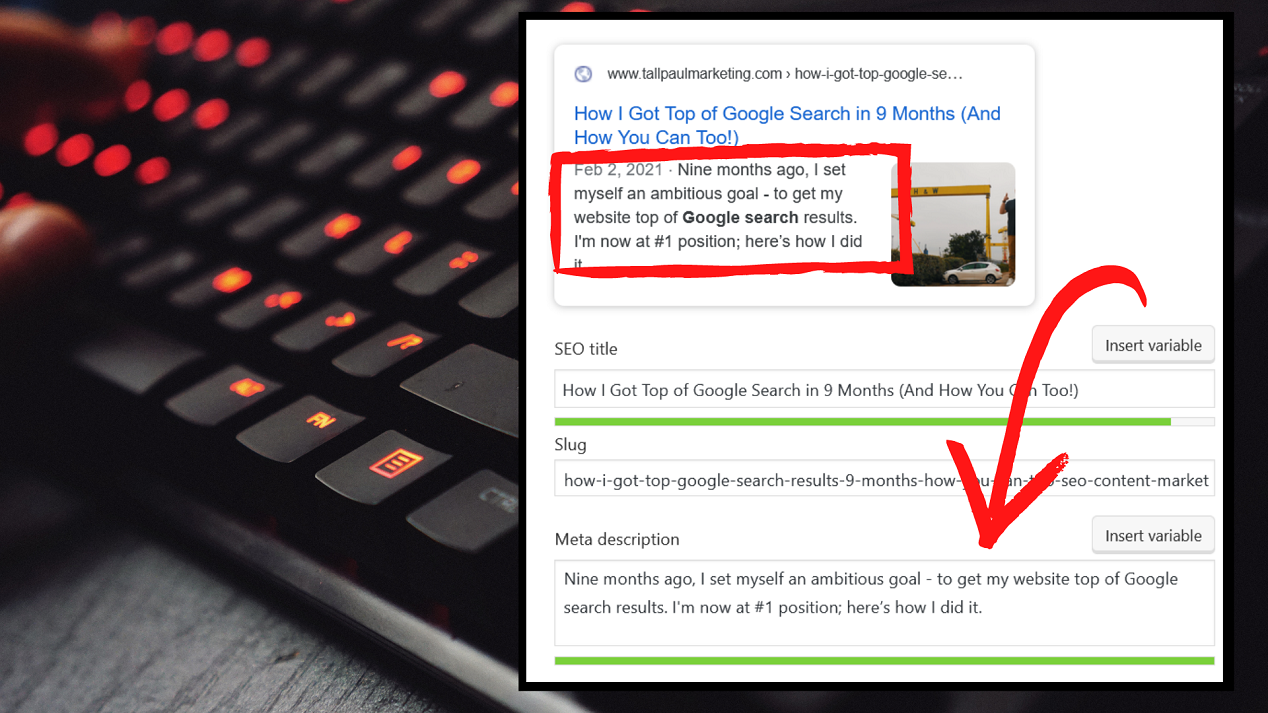 For my article titled, '8 Top Class Northern Ireland Freelancers You Need To Know In 2021′ here is my meta description:
Each meta description above gives readers a quick preview of what they can expect if they click on the link to read my blog post.
Instead of the famous 20-30 second elevator pitch, think of your meta description as a two-sentence pitch.
You'll convince or repel a lot of readers based on the quality of those two short sentences.
And if you optimise your meta descriptions smartly, they can improve your Google ranking.
The take-home message: Smart use of your meta descriptions can help drive more traffic to your website.
As a result, meta descriptions can improve your ranking on Google.
5. Use keywords and key phrases throughout your blog to optimise your content.
When you're writing content for your website – whether it's news, web or blog content – you should always try to add in some keywords.
And not just any old keywords.
But keywords that you'd like Google to rank you for.
For example, in my blog post 'Northern Ireland Digital Marketing: 5 Things I Wish I Knew When I Started My Career', I wanted to rank for the following keywords: Northern Ireland digital marketing.
As a result, I strategically placed those four words throughout my blog post.
This includes the SEO title, H1 and H2 headings and in the body of the text.
Resist the urge to go all 'keyword stuffing' to improve blog SEO (instead, use your keywords smartly).
HubSpot does a great job of explaining the strategic use of keywords in your content:
"A good rule of thumb is to focus on one or two long-tail keywords per blog post. While you can use more than one keyword in a single post, keep the focus of the post narrow enough to allow you to spend time optimising for just one or two keywords."
So, what does that mean for your business?
Let's use a local example.
You're a self-employed plumber based in Lisburn but happy to travel around the country.
Some possible keywords or keyphrases for your business might be:
Lisburn plumber

Belfast plumber

Plumber Lisburn

Plumber Dunmurry

Finaghy plumbers

Belfast plumbers

Plumber in Lisburn
Now, how would you include some of those keywords and key phrases throughout your content without making it too obvious?
Well, one blog article could be titled: '3 Things You Can Expect From a Lisburn Plumber' – there's your keywords already in the title.
Next, you could include some keywords in the H1 and H2 headings.
Firstly, for your H1 heading, you could write something like this:
Hiring a plumber means you've got an emergency leak or need help fast. And by hiring a Lisburn plumber [Insert Name], you can expect a prompt, reliable service that won't make your bank balance weep.
Secondly, focus on your H2 headings in your blog post.
How about using three H2 headings like this?
By using a Lisburn plumber, you'll support a local business and receive high-quality service.
We're there when you need us: our plumbing service operates in Finaghy, Dunmurry, Lisburn and Belfast.
FREE local call-outs in Belfast and Lisburn: only pay our plumbers when they've done the work.
There are an unlimited amount of variations you can use to let the world (and Google!) know that you're a self-employed plumber operating in and around Lisburn.
The take-home message: Smart use of keywords throughout your content can help Google recognise and rank your content more easily.
6. Ensure images on your page are optimised and don't slow down your website for a blog SEO boost.
Nothing kills a website's page loading time like images.
And, you guessed it, a slow-loading website can fall off the first page of Google in record time.
Carry out a free SEO audit of your website on Ubersuggest and look for any critical errors, for example, images that are too big.
If your website is more than a couple of years old, chances are you have hundreds or thousands of images.
And unless you can dedicate an awful lot of time to resizing every single image on your website, then you'll need a hand.
Consider buying a subscription to WP Rocket, a WordPress plugin that optimises all of the images on your website.
Optimised images shave seconds off your website's loading time.
Here's how WP Rocket explains what they do:
"WP Rocket is a caching and performance optimisation plugin to improve the loading speed of WordPress websites. You can install and configure WP Rocket in less than 3 minutes."
And Google has been consistent in recent years; a slow loading website won't rank as highly as a fast-loading website.
Here's what Google says about page load speed:
"When real users have a slow experience on mobile, they're much less likely to find what they are looking for or purchase from you in the future. For many sites, this equates to a huge missed opportunity, especially when more than half of visits are abandoned if a mobile page takes over 3 seconds to load."
The take-home message: No matter how good the content is on your website or blog, if it loads too slowly, your target audience may never find it.
7. Include your keyword in your URL.
Surprisingly, many people involved in Digital Marketing and Communications roles in Northern Ireland forget about the trusty URL as a way of boosting their ranking on Google.
More specifically, it'll be the slug you'll want to optimise.
Yoast explains a slug as:
"…the part of a URL which identifies a particular page on a website in an easy to read form. In other words, it's the part of the URL that explains the page's content."
Let's use a recent Tall Paul Marketing blog post as an example.
For example, the URL for my last article, 'How I Got Top of Google Search Results in 9 Months (And How You Can Too)' was:
https://www.tallpaulmarketing.com/how-i-got-top-google-search-results-9-months-how-you-can-too-seo–content–marketing–belfast/
Notice that I have placed a couple of keywords in it?
This tells Google that my content will be of interest to people interested in marketing, SEO, and Belfast content.
And look how different it could be if I didn't change the keywords from the URL myself:
https://www.tallpaulmarketing.com/archive/2021/article-122abr4csdwd
The above URL is nonsensical.
If it doesn't mean anything to you, it won't mean anything to Google either.
As Google explains, "URLs with words that are relevant to your site's content and structure are friendlier for visitors navigating your site."
Semrush has this advice on URLs:
SEO-friendly URLs Will:
Include your keyword
Be descriptive and meaningful
Easy to read
Use relevant categories/subfolders
Contain around 3 to 5 words if possible
The take-home message: Add a keyword or keyphrase (where appropriate) into your article's URL.
8. Make it easy for readers to share your content.
One of the reported (but controversial) factors used by Google in its ranking algorithms is how much engagement your content gets on Social Media.
First of all, think Comments, Shares, Likes, etc.
Neil Patel explains it a little more:
"Marketers should broaden their concept of search and SEO to take into account the myriad ways that people find content on the web. They also need to think about the positive effects that increased traffic from social can potentially have on their search rankings as well as the prominence of social profiles on first-page search results."
Secondly, your content needs to be easily shared.
Consider prominent social media buttons that make it a quick, simple process for readers to share your post if they find it valuable.
Conclusion
Remember, there are no quick wins in marketing.
But you can set yourself up for success by following the advice of the big search engines.
Sure, it's not as instantly successful as a paid ad campaign, but learning how to structure all of your blog content correctly will see significant improvements over time.
Most importantly, it will help you drive more organic visitors to your website, improve your ranking on Google and (fingers crossed) allow you to drive more sales.
Think of the 80/20 rule: 20% of the time is writing great content.
The other 80% should be structuring your blog content correctly for search engines and marketing it across your social media platforms.
PS: If you like my content and find it useful, you'll LOVE my new weekly newsletter, Paul of Duty: Modern Marketing. It'll be delivered right to your inbox every Friday afternoon.
---
---