Working out the best time to post on  Social Media isn't rocket science. For an NI business, it involves knowing your audience, posting when they're likely to be online and using common sense.
So, you've got the killer content, the eye-catching pictures and videos and you're tempted to click 'Publish' on Social Media.
Hold on a second, it's not just about how often you post, it's when you post.
Use these 3 tips to work out when is the best time to post on Social Media.
1. Know your audience.
No matter what industry you're in, knowing your audience is important.
It's much more than saying "Ok, they're 21-year-olds who drink coffee and go to the gym."
It's about understanding where they're likely to be at a given time.
---
---
For example, if an education business wants to target teachers, there is no point in posting something on social media between 9:00 am and 3:00 pm as there's a great chance they'll be teaching and not using their phones.
On the flip side though, a smart Social Media Manager will know that the best time to appeal to teachers is the Summer Holidays, evenings (after they've finished marking homework!), and weekends.
For Newry Times, I generally know the best times to post to Social Media. Take the below as an example.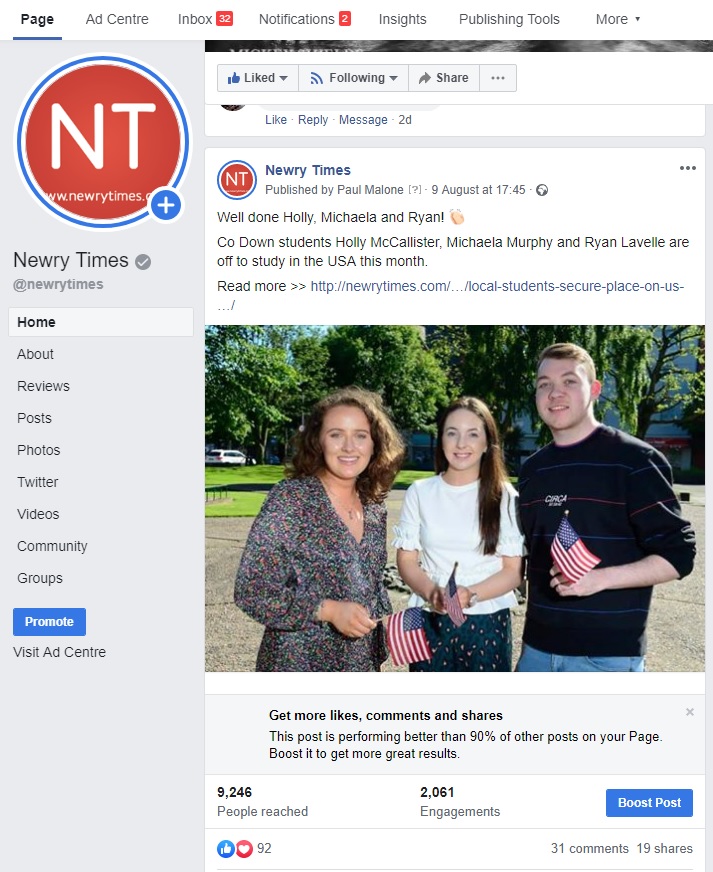 This was posted at 5:45pm because I know from nearly 9 years of owning Newry Times that I get more engagement from my audience in the evenings.
Does this mean they wouldn't engage as much at other times?
No, not necessarily, but you soon start understanding what works best and when it works best.
2. Know when they're awake and when they're asleep.
This sounds a bit creepy and stalker-ish but it's basically common sense: don't post at 3:00 am when your target audience is asleep.
Unless of course, you're selling insomnia self-help books.
I posted the below at 7:00 pm on Tall Paul Marketing Facebook page because my target audience is small and medium-sized NI businesses.
That means most are likely working from early morning until early evening.
If they're anything like me, they never switch off completely and even during downtime they're thinking about how to improve their business.
If you're a trendy coffee shop in Belfast hoping to attract more white-collar workers then think about when they're most likely to see your posts.
3. Use your common sense when posting on Social Media.
Common sense is a hugely underrated skill when it comes to Social Media Management.
Although the above two tips matter 70-80% of the time, being opportunistic the other 20-30% of the time is what will set you apart from your competitors.
Know all the public holidays in Northern Ireland.
Those days are ripe for posting great content to a captive audience.
They're most likely off work, lying on the sofa watching Netflix and scrolling through Facebook and Instagram for hours.
Check out the example below from popular Mexican food chain Boojum.
Boojum know it is a Bank Holiday and this post lets their audience know they're open and adds a little bit of humour.
Here's a list of upcoming holidays for 2020 that an NI Business could use as a guide: Bank and public holiday dates
PS: If you like my content and find it useful, you'll LOVE my new weekly newsletter, Paul of Duty: Modern Marketing. It'll be delivered right to your inbox every Friday afternoon.
---
---