Belfast Copywriter Paul Malone from Tall Paul Marketing has been announced as a finalist in two award categories at the prestigious Belfast Chamber 2021 Business Awards, in partnership with the Bank of Ireland.
The copywriter in Belfast was announced as a Belfast Business Awards finalist in the 'Best Creative Business' and 'Best New Business' categories alongside some of the country's most successful companies.
The Belfast Business Awards are organised and hosted by Belfast Chamber with Principal Sponsor, Bank of Ireland UK.
The Belfast Business Awards recognises, promotes and rewards the excellence of Belfast-based companies.
The ceremony, now in its sixth year, has become synonymous with recognising, promoting and rewarding the excellence of Belfast-based companies.
110 of Belfast's top businesses have made the shortlist spanning 22 categories, from Young Business Personality to Social Enterprise of the Year to Best Digital Business to the Bank of Ireland UK Lifetime Achievement award.
The awards seek to reward all business areas in all sectors, in Belfast and will take place on Friday 22 October 2021, at the Crowne Plaza Hotel, Shaw's Bridge, with tickets on sale now.
Belfast Copywriter Tall Paul 'delighted to be a finalist'.
A delighted Paul Malone comments, "It's hard to believe that I quit a secure, full-time job in July 2020 during the first lockdown to concentrate on Tall Paul Marketing full-time.
"Since then, I've enjoyed writing for such a diverse range of interesting people and companies in every industry imaginable, including tech, property, charity, law, communications and public bodies."
As a result of that work for clients, earlier this year, the freelance copywriter in Belfast was also a finalist in the Marketing Project of the Year category at the prestigious 2021 Digital DNA Awards.
Paul continues, "I'd just like to say a huge thank-you to every single one of my clients for placing their trust in me with website content, blog content, copywriting and marketing material over the past year.
"Tall Paul Marketing wouldn't have been so successful if it weren't for all of you trusting me."
Great pride at shortlisting news.
"I feel great pride in being shortlisted for these awards, and I'm excited now for the big night at the awards.
"With Covid causing so much disruption over the last year or two, it'll be great to get dressed up and attend an in-person event.
"I'll be in great company in both categories; the others who have been shortlisted are a great example of local businesses adapting to a challenging period.
"Personally speaking, being able to work at something I love every day is a privilege, and I've met so many incredible people with such unique stories," he adds.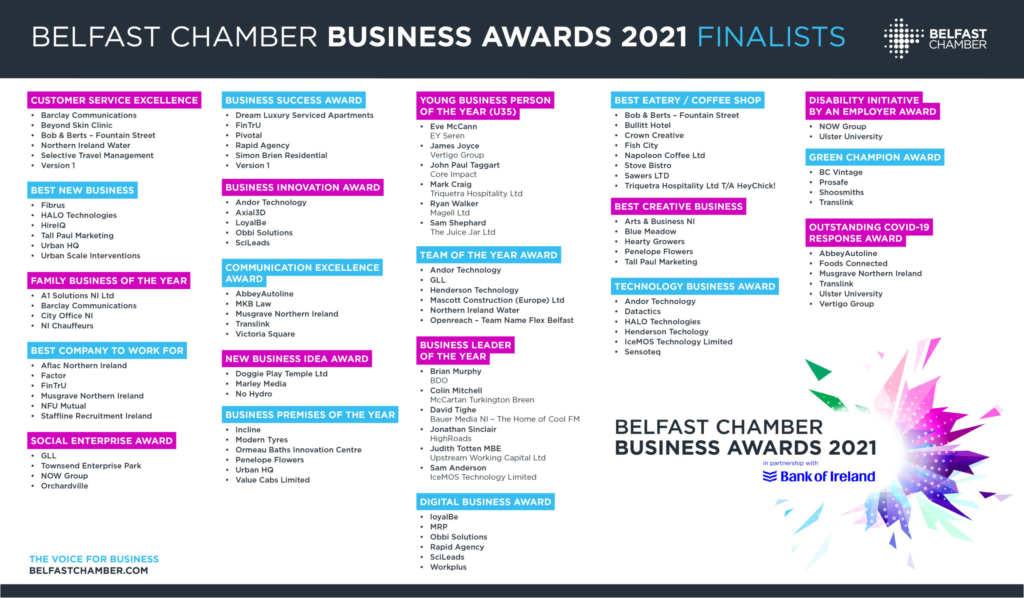 Entries to Belfast businesses Awards 'have exceeded all expectations'.
Commenting on this year's shortlist, Simon Hamilton, CEO of Belfast Chamber, says, "This has been an unprecedented year for business, with huge challenges faced by all.
"And despite that, Belfast businesses have once again shown their strength, tenacity and resilience.
"The broad selection of entries from many industries have far exceeded all expectations, with many categories receiving record numbers of submissions.
"A huge range of businesses have successfully met the brief for showcasing their achievements.
"It's making the selection process an interesting one which will positively challenge the judges."
Simon adds, "We look forward to the next stage of judging, which will involve an interview process, allowing the overall winners to be selected."
Bank of Ireland says Belfast Business Awards had 'so many exceptional entries'.
Paul McClurg, Head of Business Banking Belfast at Bank of Ireland UK, comments, "We are delighted to be able to announce the exciting news and congratulate everyone who has been shortlisted.
"The applicants this year are a testament to the quality, achievements and ambition of Belfast businesses, especially during what has been such challenging times over the last 18 months.
"This has meant some tough decisions by the judges but will make the next stage exciting, with so many exceptional entries.
"The shortlist demonstrates the high standards and rich diversity of businesses in Belfast.
"And we are proud, as principal sponsor, to be supporting them as they re-emerge, rebuild and grow as industry leaders."
Paul adds, "We look forward to the Awards night on 22 October, where the best of Belfast businesses will showcase their achievements with their teams and their peers, and when this year's Bank of Ireland UK Lifetime achievement recipient will be announced."
---
---
Belfast Business Awards will be held in Crowne Plaza Hotel.
The Belfast Business Awards will take place at the Crowne Plaza Hotel, Shaws Bridge, on Friday, 22 October 2021.
Tickets are now on sale at www.belfastchamber.com.
To find out more about Tall Paul Marketing's blog writing, content marketing and copywriting services visit the Tall Paul Marketing website.
PS: If you like my content and find it useful, you'll LOVE my new weekly newsletter, Paul of Duty: Modern Marketing. It'll be delivered right to your inbox every Friday afternoon.
---
---