For £577.88 a year, Northern Ireland businesses can transform their marketing and increase sales in 2021 using these four highly-rated, low-cost marketing tools.
Small Northern Ireland businesses need all the help they can get in 2021, and there are several low-cost marketing tools you can use.
We're all experiencing a triple whammy: a global pandemic, an almost certain recession and a Remain-voting Northern Ireland now experiencing some of the worst effects from Brexit.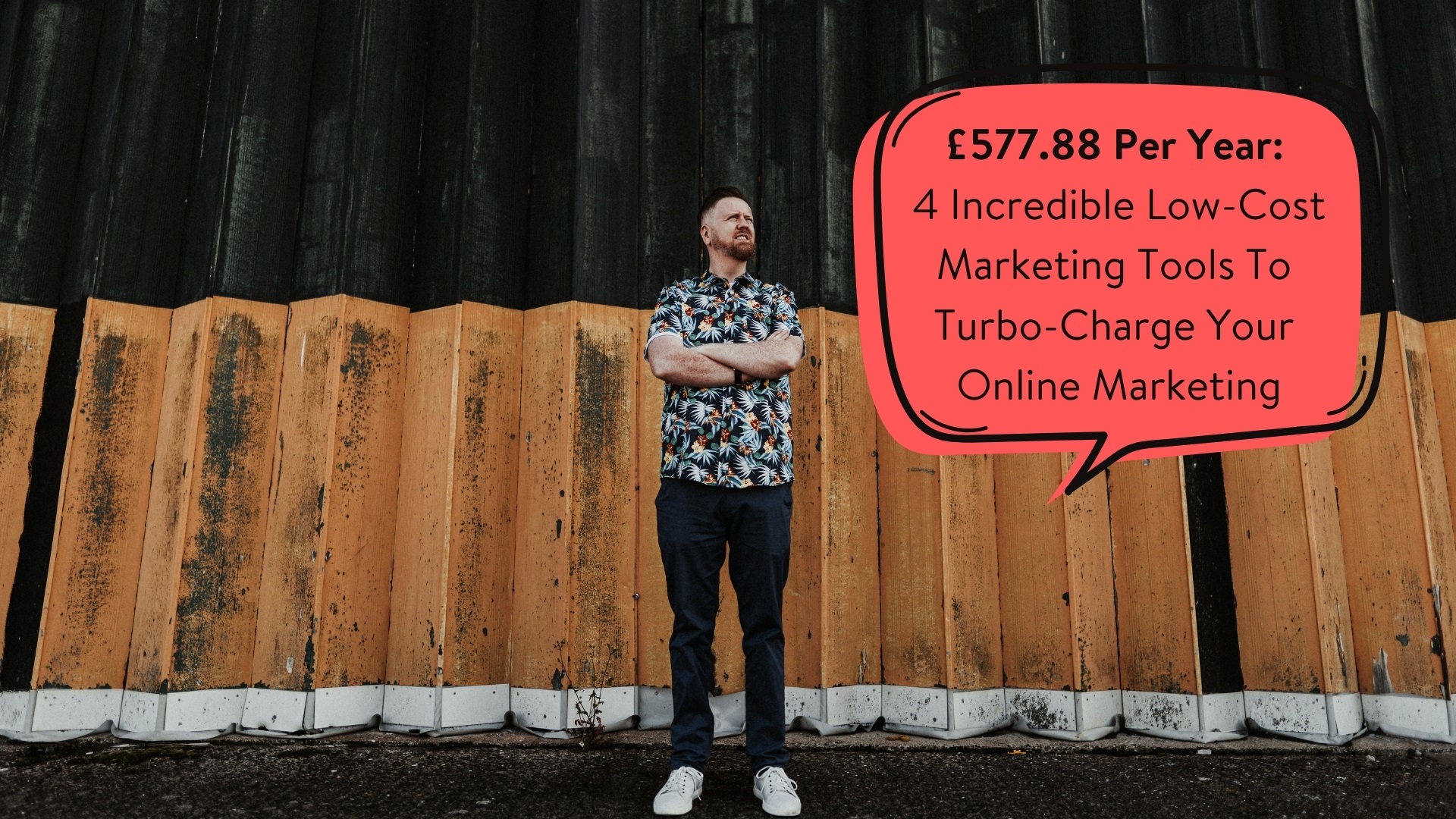 But Northern Ireland businesses should take heed of a famous phrase: "When times are good you should advertise. When times are bad, you must advertise."
And marketing and advertising don't have to cost an arm and a leg.
Some of the most efficient ways of reaching your customers are low-cost and give your business a professional, slick look.
---
---
Here are four low-cost marketing tools that every business in Northern Ireland needs.
*Disclosure: Some of the links below are affiliate links, meaning at no additional cost to you, I will earn a commission if you click the links to make a purchase.
In their own words: "Better marketing, less effort."
Cost: £8.99 per user, per month (billed yearly) or £10.99 per user/month, (billed monthly).
In this modern era of technology and content, small businesses need to be active online to stay ahead of the competition.
As a result, creating quality content consistently is challenging.
It's even more difficult if you've forgotten most of what you learnt for GCSE Art.
Step in Canva: One of the best low-cost marketing tools.
For any small business owner in Northern Ireland, Canva is the ultimate low-cost marketing tool.
It's especially useful if, like me, your graphic design skills are, should we say, ahem, terrible.
You can create a free account on Canva with limited functionality.
However, the real magic happens in the Canva Pro version, and for less than a tenner a month, it allows any business to create great visual content.

What can I use Canva for?
Northern Ireland businesses can use Canva Pro for a wide range of content.
With 420,000+ great templates to choose from, Northern Ireland businesses are spoilt for choice.
The near half-a-million templates allow you to add text, images, animations and when you're ready to rock, click download.
Social Media content is an eternal struggle for local businesses too; what to post, when to post, how to post, what content to use.
As a result, that's where Canva Pro steps up to the mark, offering social media graphics, gifs and everything else you can think of.
The beauty of Canva is that all of these templates are available to you and they'll prompt content ideas for you.
And that's not all that's on offer with one of the world's best low-cost marketing tools.
Small businesses can use the platform to create videos for social media and presentations for business meetings.
You can also create promotional posters for St Patrick's Day, Easter, Halloween and Christmas, and pretty much any other seasonal date in the calendar.
Small businesses also struggle with images for their blog posts, social media posts and website.
That's why Canva Pro offers members access to and free use of over 75 million videos, photographs and elements.
In addition, the unique platform also offers access to over 3,000+ premium fonts, logos and brand kits.
Sign up for a Canva Pro account by clicking HERE.

In their own words: "Our Professional plan helps entrepreneurs and small business owners find and automatically schedule content, engage with their audience, and track their success."
Cost: £25.00 per month (billed annually).
I'm a relatively late convert to Hootsuite.
Before using the platform, I used to go into each platform (Facebook, Twitter, Instagram and LinkedIn) to post content.
However, Hootsuite's Pro version has given me back the most precious of commodities: time.
Why is Hootsuite Pro one of the best low-cost marketing tools?
Local businesses that purchase a Hootsuite Pro subscription will find one easy-to-use dashboard where you can manage all of your social media platforms and schedule posts to go out in each.
Consequently, that means you could be sunning yourself in Donegal or on a shopping weekend to Dublin, and all of your content is automatically posted.
Moreover, there's even a cool 'Autoschedule a post' option – where Hootsuite automatically schedules your posts to, as they describe, "fill the gaps in your scheduled content".
Hootsuite is an incredible, low-cost marketing tool, and the Hootsuite Pro plan allows local businesses to add up to ten social profiles.
So, for example, a Northern Ireland restaurant could add its Facebook page, Instagram account, LinkedIn Company Page, Tik Tok account, Snapchat account, Twitter account, and up to four more accounts.
Once you've set up each of your accounts, you can upload content (picture, video, meme etc.), click on all ten of your social accounts and schedule the posts to go out on each platform whenever you want.
Unlike the free version of Hootsuite, which allows only 30 scheduled posts a month, Hootsuite Pro members can enjoy unlimited scheduled messages.
Meanwhile, for those of you reading this with a fondness for boosting Facebook posts, you can do this on Hootsuite, up to a maximum £400/month boosted post spend.
Do you want to track your social media success as you go along?
Hootsuite Pro offers, as they describe it, "analytics at your fingertips".
Also, the analytics dashboard will let you know what's striking the right chords with your target audience and allows you to find out more about your fans and followers.
Find out more about low-cost marketing tool, Hootsuite here.
In their own words: "Millions trust Grammarly's writing app to make their online writing clear and effective."
Cost: At the time of writing a 12-month Grammarly Premium subscription costs just £81.00.
How many times have you been scrolling through Facebook and noticed an advert or business listing littered with spelling and grammatical errors?
I bet u've noticied it lotsa of tims.  (Yes, that was on purpose!).

Content with spelling mistakes and grammatical errors is a significant turn-off for prospective customers.
As a result, many will assume you don't take your business seriously if you can't get the basics right: their v there v they're or where v were v wear etc.
That's where Grammarly steps in.
What can I use Grammarly for, and why is it one of the best low-cost marketing tools?
Writing is one of my strong suits, but it never hurts to have a fresh pair of eyes looking over your work.
But not everyone is comfortable writing.
Every piece of content you create is read by potentially hundreds, or even thousands, of potential customers.
So, for a small investment, you could get peace of mind that there are no glaring mistakes with your content.
Grammarly Premium is one of the best low-cost marketing tools: it will look over your content pretty much anywhere on your computer.
Personally, I have mine set to look over my content on MS Word, Gmail, WordPress and Outlook.
The intuitive software moves through your content at lightning speed and checks for spelling errors, grammar mistakes, tone, style and possible clarity improvements.
Most importantly, it'll offer recommendations on how to tweak sentences for better readability and even shows examples that you can click on to transform a sentence.
For example, as you write, it'll offer you word choices, let you know if your content comes across as joyful, sad, informative etc.
And as your writing improves, you'll start to enjoy creating high-quality content.
As a result of the functionality of the software, 76% of Grammarly users said they find writing more enjoyable using Grammarly.
In their own words: "SEO for everyone."
Cost: £89 (ex VAT) for one website for one year.
Did you ever wonder how your competitors appear on page 1 of Google Search Results?
You've probably heard phrases like SEO (Search Engine Optimisation), SEM (Search Engine Marketing), backlinks and domain authority.
But while the phrases sound like marketing jargon, the opportunities they can provide for your business are phenomenal.
Therefore, that's where our fourth low-cost marketing tool, Yoast Premium steps in.
What can I use Yoast SEO for?
Assuming you have a WordPress website – over 62% of the websites globally are built on the platform – then Yoast Premium will be an incredible, low-cost marketing tool to add to your arsenal.
In other words, Yoast makes SEO simple.
After you've created content on your WordPress dashboard, Yoast will optimise your content for keywords, keyphrases, synonyms, and similar keywords.
The smart software will help you structure your content so that readers can enjoy it.
You'll quickly learn about the importance of <H1> and <H2> tags in your content.
And you'll understand how to include hyperlinks in your text and why they're essential.
Yoast, another of the world's most respected low-cost marketing tools, allows you to simply create a piece of content and add a keyword that you want the page to rank for.
For example, a Belfast pizza shop might use a keyphrase like Belfast Pizza or Pizza Delivery Belfast.
Once you've entered your keyphrase, Yoast will offer tips on how to tweak your content to make sure it ranks on Google search results for the keyphrase.
Let's use another local example of how a Northern Ireland business might make use of Yoast.
A Banbridge hotel could use the keyphrase 'Hotel Banbridge', and Yoast will add in all variations of the keyphrase, for example, 'Hotels in Banbridge', 'Banbridge hotel availability', 'book Banbridge hotel' and any other variations of the term.
However, unlike the free version – you can only enter one keyphrase – with a Yoast Premium subscription, you can enter more related keywords or keyphrases.
This means you will be optimising your content, and it'll be more likely to be picked up by Google and displayed in their search results.
In conclusion, here are the prices you need to know based on one-year subscriptions for each of the low-cost marketing tools.
Hootsuite: £300.00
Grammarly: £81.00
Yoast SEO: £89
So, for the relatively small investment of £577.88, you can bring your marketing efforts to the next level.
Is there any other low-cost marketing tools you're using and would recommend? Let me know in the comments.
PS: If you like my content and find it useful, you'll LOVE my new weekly newsletter, Paul of Duty: Modern Marketing. It'll be delivered right to your inbox every Friday afternoon.
---
---